校友刘钢获2011年度美国青年科学家总统奖
huyu 发表于 2011/10/25 00:48 修改于 2011/10/25 00:50 华中科技大学校友论坛 (www.hust.org) 主题字词: 刘钢 美国青年科学家总统奖 华中科技大学 纳米技术
日前,2011年度美国青年科学家总统奖名单揭晓,华中科技大学校友、伊利诺伊大学香槟分校助理教授刘钢获此殊荣。美国总统奥巴马将在10月中旬为获奖者颁奖。
  刘钢1996年进入华中科技大学生命科学与技术学院生物医学工程与仪器专业学习,之后,获美国加州大学伯克利分校生物工程博士学位,现为伊利诺伊大学香槟分校电子和电脑工程系助理教授,研究领域是生物纳米技术。
  美国青年科学家总统奖由前总统克林顿于1996年设立,是美国政府对青年研究人员的最高奖项。该奖项每年评选1次,由美国国家科学技术基金会主办,政府相关部门就上一年度全美大学和研究机构中有突出成果和杰出贡献的青年科学家、学者和工程师予以奖励,每位得奖人将获得5年的研究资助。
CHAMPAIGN,Ill. — University of Illinois professor Gang Logan Liu is among the 94 researchers to receive the 2011 Presidential Early Career Award for Scientists and Engineers (PECASE), the highest honor the U.S. government confers upon young investigators establishing their independent research careers.
Each PECASE recipient will receive up to five years of funding to pursue research avenues of their choice. The winners are recognized for their innovation in science and technology as well as their commitment to education and outreach.
"It is inspiring to see the innovative work being done by these scientists and engineers as they ramp up their careers – careers that I know will be not only personally rewarding but also invaluable to the nation," President Barack Obama said in the award announcement. "That so many of them are also devoting time to mentoring and other forms of community service speaks volumes about their potential for leadership, not only as scientists but as model citizens."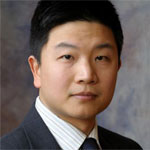 Liu, who is a researcher in the Micro and Nanotechnology Lab, specializes in using nanoengineering methods to understand and control molecular and cellular systems. He was nominated by the U.S. Department of Energy for his part in developing high-performance surface-enhanced Raman spectroscopy (SERS) devices and techniques, which are used to study chemicals and biological molecules adsorbed on a solid surface for energy and biodefense applications.
Liu has worked to enhance the sensitivity and reliability of large-scale integrated SERS devices and detection techniques and explores SERS applications in physics, chemistry and biology, including proteomic microarrays, ultrasensitive 3-D living cell nanoimaging, optofluidic microdevices and quantum nanophotonics.
Liu earned his doctorate in bioengineering at the University of California at Berkeley in 2006 and completed a fellowship at the Lawrence Livermore National Laboratory before joining the faculty at U. of I. in 2008.
PECASE recipients will receive their awards at a White House ceremony on October 14.